http://www.marijuanadrugfacts.com/marijuana/marijuana-sales-are-legal-everywhere-in-california-right-not-exactly
California became the first state in the U.S. to approve marijuana for medicinal use back in 1996. It was also among the first to legalize recreational adult use marijuana in 2016.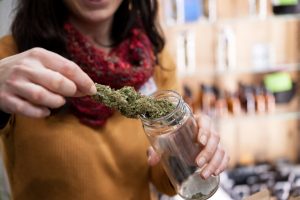 However, it would be erroneous to assert that marijuana sales are legal everywhere in the state. As our Los Angeles marijuana lawyers can explain, cannabis still remains widely unavailable in some of the largest cities in the Golden State.
Of the state's 482 cities, only 174 of them allow some type of licensed, cannabis business to operate within their district. In a number of those jurisdictions, the only allowable businesses are those that are not classified as retail locations. That means that a key piece of the supply chain puzzle is missing. Ultimately, this leaves millions of people without immediate access to retail recreational cannabis.
The one exception is delivery. Having a state license from the California Department of Cannabis Control authorizing delivery allows that company to deliver in any jurisdiction in the state – something that has been affirmed in subsequent court rulings challenging this right. However, those companies might still be subject to local jurisdictional requirements. All cannabis company owners and operators should be working with an experienced marijuana business attorney to help ensure their operation rights are protected.
But the benefit of accessible cannabis for all communities goes beyond the shop owners. It benefits the industry as a whole, as well as citizens. Accessible legal cannabis constricts opportunities for those in the black market to gain a foothold.
So what's the holdup?
Primarily, it comes down to a provision of Proposition 64 (the bill that legalized marijuana for adult recreational use) grants a significant degree of local control. Some industry proponents have been lobbying the governor to back efforts to do away with that provision entirely. However, there are a fair number who argue that the local control provision was central to the promise made in Proposition 64 – that cities and counties could retain explicit control marijuana-related businesses within their jurisdictions, including banning them entirely if they so chose. Most cities that approved the introduction of recreational cannabis dispensaries were ones that already had medicinal marijuana and/or needed an economic boost (which cannabis businesses have indeed provided).
But allowing the black market to thrive isn't serving the communities or their constituents. Increasingly, the people support permitting legal cannabis retail shops in their areas. But the "Nay" votes mostly come down to politics. Voting in favor of retail cannabis could mean lost support from certain PACs (Political Action Committees or groups like local police chiefs, etc.
California's biggest cities that bar cannabis dispensaries are:
Fresno, a community of 525,000 people. However, this is on the verge of changing. The city has created an Office of Cannabis Oversight, and is slated to approve nearly two dozen retail businesses within the next few months.
Bakersfield, a community of more than 400,000 people. Neither this city nor the unincorporated parts of Kern County allow for cannabis sales.
Anaheim – home of Disneyland, but not to any marijuana dispensaries. The city council in the community of about 350,000 voted against cannabis retail operations last year.
Other larger communities in the state that don't allow cannabis retail include Irvine, Fremont, Santa Clarita, Fontana, Oxnard, Huntington Beach, and Glendale.
The Los Angeles CANNABIS LAW Group represents growers, dispensaries, ancillary companies, patients, doctors and those facing marijuana charges. Call us at 714-937-2050.
Additional Resources: