http://www.marijuanadrugfacts.com/marijuana/california-marijuana-shipping-poses-legal-liabilities
Although cannabis is now legal in some form in more than half of the U.S., shipping it across state lines is still a crime for which people across the country are being arrested. This is true even in cases where it is being shipped between two states where it's legal in recreational form. That's because it's still very much illegal at the federal level.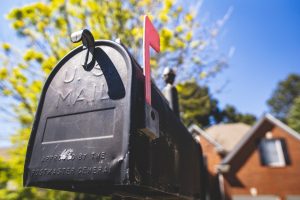 The U.S. Postal Service is a federal entity, so federal law applies (even if you're using another carrier, such as FedEx, DHL or UPS). Whether you ship marijuana intrastate or interstate, you risk being charged with marijuana trafficking, for which there are minimum mandatory federal prison sentences depending on how much product has been moved.
Industrial hemp and its derivatives are the exception under the 2018 U.S. Farm Bill, but even that has proven problematic (just ask long haul truckers).
Shipping products is likely one area of the legal market that marijuana advocates will want to explore in the upcoming years, as it could broaden their potential market reach exponentially. However, it's probable nothing will change until marijuana is no longer considered an illegal substance under federal law. It's currently listed as a Schedule I narcotic, among the most dangerous and with no accepted medical purpose. (The designation is of course preposterous, but for now, it remains.)
Those wishing to transport marijuana from Point A to Point B need to discuss their legal options with an experienced Los Angeles marijuana lawyer who can offer advice on how to remain within the parameters of the law. Those arrested on drug trafficking charges for shipping marijuana should also seek the assistance of a marijuana defense lawyer who will be prepared to help you fight the charges.
Among the recent cases of criminal charges for shipping marijuana:
A North Carolina man was arrested after he allegedly shipped more than 10 pounds of marijuana from California to a private home in North Carolina. The county sheriff caught wind of the upcoming delivery, made earlier this month via U.S. Postal Service, and set up surveillance outside the home. Once the package was delivered, authorities obtained a search warrant for the property. Once inside, they discovered packages of high grade marijuana, along with a scale, nearly 2,000 grams of vape pen cartridges, drug packaging paraphernalia and an assault rifle. The total value of items seized was estimated to be roughly $60,000. A 40-year-old man was arrested by sheriff's deputies and charged with trafficking marijuana, felony maintaining a dwelling/vehicle and possession of drug paraphernalia.
A 29-year-old North Dakota man is facing three felony drug charges after local police in Bismarck allege he received marijuana shipments from California through the mail and wired money back to California for payment. When authorities searched his home in October, they reportedly found more than 220 grams of marijuana and 35 grams of methamphetamine. His trial is slated for May.
A man in Louisville, Kentucky was arrested earlier this month after picking up a large shipment of marijuana at a local post office box. Authorities arrested the 37-year-old after he followed instructions to pick up his P.O. box packages at the front counter. Authorities pulled him over in a traffic stop and reportedly discovered more than 16 pounds of marijuana. He is facing felony marijuana trafficking charges.
It's not clear whether any of those on the shipping end will face charges, but it's imperative all defendants in these situations seek immediate, experienced legal counsel.
The Los Angeles CANNABIS LAW Group represents growers, dispensaries, ancillary companies, patients, doctors and those facing marijuana charges. Call us at 714-937-2050.
Additional Resources:
May trial set in case of pot shipped through mail, Jan. 13, 2020, By Travis Svihovec, The Bismarck Tribune