http://www.marijuanadrugfacts.com/cultivation/grow-marijuana/ground-control-to-major-tom-sending-hemp-to-space
In March of this year, SpaceX CRS-20 cargo flight will carry tissue culture samples of hemp and coffee to the International Space Station (ISS). Floating in a most peculiar way, the stars look very different, that is, the day those hemp samples enter orbit.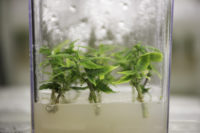 Front Range Biosciences (FRB) is partnering with Space Cells and the University of Colorado, Boulder, on an experiment to "examine zero gravity's effects on the plants' metabolic pathways," according to a press release. FRB will provide the plant cultures, while Space Cells provides funding and intelligence, using the dedicated space aboard the ISS for Boulder's program. The university will also train NASA astronauts how to transfer cells to an incubator and conduct the experiment.
More than 480 plant cell cultures are going to be placed in an incubator designed for space, which will regulate temperature among other variables for about 30 days aboard the ISS. There will be a "PlantCam" where folks at Boulder can monitor the cells from their command center. After those 30 days are over, the plants will return to earth where FRB researchers will inspect the samples and "evaluate their DNA to determine if microgravity and space radiation exposure altered their gene expression."
According to Dr. Jonathan Vaught, co-founder and CEO of Front Range Biosciences, the research results could help scientists identify new varieties or chemical expressions in the plant that were previously misunderstood. "This is the first time anyone is researching the effects of microgravity and spaceflight on hemp and coffee cell cultures," says Dr. Vaught. "There is science to support the theory that plants in space experience mutations. This is an opportunity to see whether those mutations hold up once brought back to earth and if there are new commercial applications."
Peter McCullagh, founder and managing partner of Space Cells, says the commercial applications for this experiment have a lot of potential. Learning how crops can thrive in a harsh environment could give researchers important information on how to deal with the effects of climate change on agriculture around the world. "We've been fortunate to be a leader in the new space industry and we're excited to explore this new frontier with the team at Front Range Biosciences and University of Colorado, Boulder," says McCullagh. "These are big ideas we're pursuing and there's a massive opportunity to bring to market new chemotypes, as well as plants that can better adapt to drought and cold conditions."
This won't be the only experiment either – the partnership wants to conduct a number of experiments that will study how to boost productivity and viability for crops in space. "We envision this to be the first of many experiments together," says Louis Stodieck, director of BioServe Space Technologies at the University of Colorado, Boulder. "In the future, we plan for the crew to harvest and preserve the plants at different points in their grow-cycle so we can analyze which metabolic pathways are turned on and turned off. This is a fascinating area of study that has considerable potential."
Hemp tissue cultures floating in a tin can, far above the world and all in the name of science and to determine if microgravity and space radiation exposure can alter gene expressions. No we've really made the grade.
The post Ground Control to Major Tom: Sending Hemp to Space appeared first on Cannabis Industry Journal.