http://www.marijuanadrugfacts.com/cultivation/grow-marijuana/flower-side-chats-part-8-a-qa-with-andreas-dre-neumann-chief-creative-director-of-jushi-holdings-inc
In this "Flower-Side Chats" series of articles, Green interviews integrated cannabis companies and flower brands that are bringing unique business models to the industry. Particular attention is focused on how these businesses integrate innovative practices to navigate a rapidly changing landscape of regulations, supply chain and consumer demand.
Jushi Holdings Inc. (OTCMKTS: JUSHF | CSE: JUSH) is a multi-state operator with a national footprint and core markets in Illinois, Pennsylvania and Virginia, with developing markets in California, Nevada, Massachusetts and Ohio. In addition, Jushi maintains offices in Colorado, New York and Florida. In Q1 2021 they posted $42M in revenue representing 30% growth over Q4 2020 and 77% of their sales were conducted online. Jushi brands include Beyond / Hello, The Bank, The Lab, Tasteology, Sēchē, Nira CBD and Nira+ Medicinals.
We interviewed Andreas "Dre" Neumann, Chief Creative Director of Jushi Holdings. Dre joined Jushi in February 2020 after connecting to the founders through a colleague and running a large user experience research project. Prior to Jushi, Dre cut his teeth in advertising and branded entertainment. He was a startup founder at TalentHouse.com and a Partner at Idean, which he later sold to Capgemini.
Aaron Green: How did you get involved in the cannabis industry?
Andreas Neumann: I'm a guy who has been interested in many genres – I'm always looking for the next big thing. I started out in advertising and then I faded into branded entertainment when the traditional advertising wave was kind of shaky due to the digital attack of the internet with platforms like Facebook and Myspace.
I've also been fascinated by digital which led me to move into Silicon Valley. I had a startup called TalentHouse.com which was like LinkedIn for creative people. I learned a lot there about building a company in Silicon Valley. It was the first time I was confronted with experienced customer and user experience people. CX and UX was already kind of a thing in Silicon Valley at the time. My last company I was a partner in was a company called Idean, a Silicon Valley-based user experience company which we sold to a French company called Capgemini about four years ago.
I continue to be involved in the entertainment industry as kind of a creative outlet. I'm working with a lot of big rock bands like The Foo Fighters and Queens of the Stone Age. I just did the last Foo Fighter album. Photography is my last domain of total creativity where I can do whatever I want specifically in the rock business.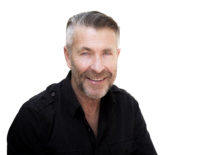 Coming to the cannabis point, I was actively looking for a partner to do a cannabis brand with The Queens of the Stone Age. I met Jushi through a very interesting coincidence. I was on the way to do a shoot in Silicon Valley with a guy called Les Claypool, who is from a famous band called Primus. I shot Les there and I was driving through Silicon Valley and remembered I had a friend nearby I should talk to. So, I called him and he was in Singapore. He called me right back (he never calls back normally) and said "You've got to talk to Jushi! You've got to talk to these guys Jim Cacioppo and Erich Mauff (two of the founders). They are starting something very exciting. They could be your partners."
This is where the conversation started. It was my first time confronting a cannabis MSO and understanding how this works. I had just exited from my last agency and put together the best people from my previous endeavor to create a new sort of "creative collective" of UX and marketing experts. We did a test project for Jushi, a big research project on cannabis for California in retail, which was super interesting. It was a 200-page document – the first phase of user experience of the process before you build something – and through that I saw this as a big opportunity. I spoke to the founders again and came fully onboard in February 2020, just before the pandemic hit. From then on, it's been a real amazing journey with me and the team. And it was the right moment to jump on the Jushi train as it was just about to leave the station.
Green: Can you talk about some of the geographies you are active in?
Neumann: Jushi is a multi-state operator. The most important state for Jushi is Pennsylvania. That's where we have the most stores and we are building more stores there this year as well, very aggressively. We currently have 13 Beyond / Hello medical cannabis dispensaries in the state with many more to come, bringing an unmatched in-store experience, coupled with online reservations and in-store express pick-up.
The next important market for us is Virginia. We have a unique position there in Manassas with a cultivation facility and manufacturing and extraction facility, with the license for up to six stores. We started store number one in the facility, and we are rolling it out in HSA II. We are the only ones who can open stores in HSA II and this is straight on the border to Washington D.C. We call Virginia the "sleeping giant." So much happened in the last year in Virginia around regulation and the industry, and now flower is finally legal.

Then we have Illinois – super interesting stores there. We have two flagship stores located straight on the border of Missouri, basically in East St. Louis. They are our biggest performers in the whole network because of the location. You have people coming over from Missouri, which is really in the beginnings of a medical market, and Illinois, which is now adult use. It was a super cool experience to see a medical market change to adult-use and be part of that change.
In other states, we recently announced the acquisition of Nature's Remedy in Massachusetts, where we will have cultivation, processing and stores there. In Nevada, we have a grower-processor and we're looking at opportunities in retail as well. At the moment, we have all our brands launched there. We are also continuing to build out our processing and cultivation capabilities in Ohio.
Last but not least is California. I'm based in California and the whole creative team is here. It's a vanity market and it's very competitive, but you're in the capital of the world of cannabis in terms of brands and retail. California is in the future compared to the other states. So, we need to be here. It's just like a soccer team. You must compete against good people or you're not going to grow. So, that's why competing here in California is key.
Green: How do you think about brand development, specifically in the cannabis CPG space?
Neumann: California is the king of brands. There are more products than brands in the cannabis industry at the moment. The products may have nice packaging, but brands aren't really out there yet. The only states where you have "brands" as I would call them are California, Colorado and Oregon. I think we are just about to get to the place where the first rush is over and people with more experience about brands come in and build on the story of the brand. The myths, the cult, the legend of that story is important, and I think this is just about to get started.
Our brands, The Bank and The Lab, have good stories. They have been around a long time. We acquired them from a company in Colorado and we rolled them out in Nevada with a total revamp of look and feel as well as story. The Bank is celebrating this kind of roaring 20s idea. We have a lot of images, from black and white prohibition-style photos to this black-gold, very high-end, adult use tailored brand.
The Lab is a solid vaping brand from Colorado, and one of the 8th best-selling vape brands of all time. We revamped The Lab image to "take the lab out of the lab." So basically, take the hairnet and the lab coat out of the vibe and add a whole new energy, with symmetry and nature in a leading role.
Tasteology, which is one of our self-made, self-created brands, was all based on customer research. In Pennsylvania, we have thousands of people we can communicate with, and we can test our brands. So, we've done focus groups and testing to see what sticks, and the name Tasteology came out of a huge research project with hundreds of names.
The last brand comes back to your question "Where are the brands going?" I think our brand Sēchē is the first one of our own creation and has this total lifestyle feel. It's fine grind flower which normally might make its way to extraction. We treat it well and then we sell the raw flower, as well as a pre-roll line. It's this kind of a young, cost effective, very affordable pre-roll and pre-ground brand, which is fabulous. And Sēchē really gets a lot of traction – flies off the shelves in Pennsylvania. It is a great product.
So, this is now the first stage where brands are created, but I think overall, there's not many brands yet. They have to find their stories and their real purpose, I think. But California is ahead of it. And there's some of them coming out now. So, I think there's a new wave coming. It always goes in phases.
Green: How do you think about brand partners?
Neumann: We did the first step towards outside partnerships recently. We just partnered with Colin Hanks, Tom Hanks' son, on his handkerchief line called Hanks Kerchiefs and we're going to sell these in our stores. Hanks Kerchiefs has nothing to do with cannabis, but it takes our stores to a place where it's not only cannabis products, it's more the retail scene, the lifestyle scene. If we go into future partnerships with people, we would partner with big talent agencies to create something special. Maybe it's limited editions, maybe it's something more story-driven, but it doesn't have to be there forever. I see using outside partnerships for more "drops," as we call it. But we will see. You cannot force these collaborations. They have to come at the right time and need to be real. That's what people feel. If it's real you can feel it.
Green: Do you notice any differences in consumer preferences between the states you're in and do you have to tailor your messaging differently?
Neumann: This is a super interesting question. I've been working in Europe, and you have all these different countries, so every market is different. Every market gets different messages. Every market gets different commercials. It's the same in cannabis in the United States! The only difference is that it's so regulated. I could launch a gummy in Virginia and all Virginia would know about it. It would become a household name, and everybody uses that gummy. But in California, no one will hear about it. No one would care about it. And the same vice versa, right?
So, different states, different brands. With our acquisitions, we are acquiring new brands, which then live only in those states. Then we have to support that. If the data would show we should then we do it. When we acquire something we consumer test in many states, and specifically in the states where the acquisition happened.
Overall, you can say flower is always what people want. But in markets like Virginia, we cannot sell flower at the moment. In Pennsylvania you have flower, but you can't have edibles. Do Pennsylvanians want edibles? Of course, they want it but it's not allowed yet. So, there's always this to consider.
Green: What are some of the forward-looking opportunities that you see to merge product with technology?
Neumann: It's interesting that flower, the most old-fashioned thing you could have, is the biggest thing. If you get into it, it's pure, you can smell it, you can trust it. Flower has its own charm.
So, asking about merging technology and product is like asking what technology comes with drinking wine. There's lots of stuff around it. I think in the end the technology will be more about how you can create a product which delivers high THC, fast and controlled. The technology that goes into making stuff like live resin has a big future, because not everybody can make it. It has a very complicated process of freezing the product within four hours after the harvest, and then cold extraction. So, I think technology there has a big impact and gets the experience of the consumption right.
In the consumer world, people have tried a lot of things with technology. For example, limiting doses and inserting flower into a device. There are people trying all kinds of stuff. Common sense is always the key. What do you want to use most? Do you want to have a pre-roll and just enjoy it? A long one when you have friends around? A short one if you're alone walking a dog? I think you have to keep it simple. That's the most difficult thing most of the time.
Green: Final question here. What are you most interested in learning about? This can be personal life or cannabis.
Neumann: When I entered the cannabis industry, I hadn't been a consumer since I was 18. I was more of an alcohol guy, but then later I stopped drinking alcohol, so I was totally clean the last 15 years until I entered the cannabis industry.
When I do something like making films about a jet fighter, I have to fly the jet fighter. If I make a film about jumping out of a plane, I have to jump out of the plane. So, if I work in the cannabis company, I have to consume cannabis. I cannot not consume it. So, I started professionally consuming cannabis every day. From day one when we started research, every day I tried other products and I became a real user. Not during the day, but in the evening when it's the right time.
First of all, I compare it a lot with music. It's like a feeling. Everybody feels it differently. I think what it does – and this fascinates me about it and it's why I love to be in this industry – is it seems to be slowing down the world a little bit and your desperation. This slowing down of desperation actually opens you up to receive and when and you receive good stuff it comes to you kind of effortlessly. Not only is it great for medical use – it has helped me for pain as well – but also as a receiver of energy. I think it clears a lot of the "signal." I'm always interested in learning more about this incredible plant.
Green: Thanks Dre, that concludes the interview.
Neumann: Thanks Aaron.
The post Flower-Side Chats Part 8: A Q&A with Andreas "Dre" Neumann, Chief Creative Director of Jushi Holdings Inc. appeared first on Cannabis Industry Journal.