http://www.marijuanadrugfacts.com/cultivation/grow-marijuana/building-an-integrated-pest-management-plan-part-4
This is the fourth in a series of articles designed to introduce an integrated pest management framework for cannabis cultivation facilities. To see Part One, an overview of the plan and pest identification, click here. For Part Two, on pest monitoring and record keeping, click here. For Part Three, on preventative measures, click here. Part Five comes out next week on how to build a framework for control actions and how to monitor them. More to come!
This is Part 4: Direct Control Options
Even when the best methods are implemented and precautions are taken to protect your infrastructure, determined pests can penetrate your perimeter. Before you see crawling, hopping or flying insects, or sickly-looking plants, be sure to implement your physical protection (positive pressure airflow sealed facilities) and personal hygiene methods (shoe baths, sticky mats, & air shower entrances) to protect your crops. Equip your employees with personal protection equipment (PPE) proper gloves, masks and clothing as discussed in our last chapter, preventative measures.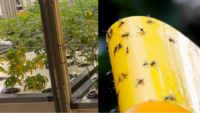 When things do break-out beyond your acceptable thresholds, Direct Control Options include non-chemical microbial biofungicides, microbial bioinsecticides and direct chemical control options. Lots of big scary words there, all of which are toxic even under safe application methods and when used at recommended concentrations levels. This means training in their use and protective clothing is required. Careful application of these control options is necessary so you exterminate your pests and not your people! This seems obvious, but do not just "wing it."
These chemical elements can be applied in diluted concentration levels, manual wipe-down application, concentrated flush frequencies, or root drench applications, foliar spray mist applications, HVAC aerial diffusions and aerial knock-down sprays. You may even choose to remove badly infected plants and destroy them completely.
Use experts when you are planning for these tools. All of these methods require handling and safety precautions. Proper breathing filters, eye & skin protection, as well as disposable gowns/hazmat suits should be used when applications are performed and until the applications have dissipated to safe levels. Be careful not to co-mingle removed plant materials. Gloves become transport and infection spreaders after use.
Please also be sure to review your harvest testing requirements and what treatments are safe for your consumers and within legal limits. No one wants to have their harvest rejected due to pesticide contamination.
Clean-up after application may be required depending on the bioinsecticide or chemical that is used. Again, always ensure the safety of your employees and take precautions.
Start the application of your control options with your site map, room assignments and scout monitoring teams. Where does air flow into and within the facility? When your scouting team count logs go beyond your acceptable thresholds, here are some options for you.
Let's begin with cleaning your irrigation and nutrient water sources. For a walk-through tutorial for incoming water treatment, humidity recovery and nutrient water recycling, please review the video tour of Water Treatment at RAIR Cannabis to see how an expert has done it.
From the IPM Planning Guide standpoint, peroxide and acid sterilizers can be used to clear irrigation water, for surface wipe-downs or as direct plant applications. We will cover those first. Caustic sterilizers require PPE for cleaning. Forgive my image here, we were just using water.
Concentrated Cleaners for Surfaces & Irrigation Sources (Hydrogen Peroxide & Sanitizers)
Plant interacting interfaces, i.e. surfaces, benches, walls, floors, trays, utensils, clippers, etc. should be sterilized with every use. Methods can include direct wipe-down or scrub, concentrated or diluted sprays or room vaporizers. A good example of hydrogen peroxide (H2O2) liquid would be a food grade sanitizer with 3-35% H2O2 content. Use acceptable diluted versions of these cleaners as appropriate.
A commercial example would be Zerotol 2.0 with 27% H2O2 & their proprietary acid mix. Alternatively, you can use direct hydrogen peroxide generators from commercial sources to generate your H2O2 at various concentrations. More detailed examples are included in the complete Integrated Pest Management Guide (link at the end of this article). Establish your procedures for sterilizing your rooms and tools before you introduce plants, and describe what is to be done after every harvest and room turn. Track the cleaning materials used for your operational records. You will find this useful to track operational cost over time.
Sanitizing Acids for Surfaces & Irrigation Sources
Similar to hydrogen peroxide, hypochlorous acid (HOCl) comes in many commercial forms and can also be generated onsite using purchased generators. Commercial mix examples are UC Roots, Watermax and Athena Cleanse. They come in 0.028% to 15% concentrations. Self-generators range in output from highly precise 0.01% to 1% concentrations with more examples in the guide.
Treatment Tools
OK, so enough on cleaning preparation. Here are some tools that can be used to fight back against a pest intrusion:
Non-Chemical Microbial Biofungicide for Pathogens in Soil or Fertigation Water
Microbial fungicides are available to clear nutrient irrigation systems by minimizing pathogens and improving plant resistance to infections. Some fungicide versions target root pathogens by attacking the diseases directly. Others control or suppress common water carried challenges like pythium, rhizoctonia, phytophthora, fusarium and others. Brand names include Botanicare, Bonide, BioWorks, Actinovate, Mycostop and many more. Details covered in the guide.
Non-Chemical Microbial Bioinsecticides for Larval Stages
These biological tools attack the organisms or insects at a physical or mechanical way by breaking down the pest's nervous system, biochemistry, or structural integrity (exoskeletons, etc.). These are engineered or living organisms (bugs to attack bugs) that are developed as targeted attacks for specific pests. Brand names are BioCeres, Botanigard, Venerate, Bio Solutions and others.
Minimal Risk Chemical Pesticides for Airborne Critters

Regularly approved for used in most locales, essential oils, natural acids (like citric acid) and insecticidal soap are commonly available in every hydroponic store. These work very well as safe spray "knock-down" insecticides for crawling or flying pests. Commercial examples use a proprietary mix of various oils, citric acids or isopropyl alcohol to do their task (examples in guide). Insecticidal soaps and fungicides for surface cleaning perform a similar purpose and typically use potassium salts or fatty acid mixtures.
Biochemical Pesticides
These tools are used to inhibit insect or fungal growth to acceptable levels. The multifaceted and commonly used neem oil comes in many commercial versions and is a naturally occurring pesticide extracted from the leaves and seeds of the neem tree. Example brand names are Bonide, Monterey, Triact and others. They range in concentrations from 0.9% to 70% concentrations. These oils suffocate living organisms or eliminate moisture to kill insects, spores or fungus at their initiation and throughout their lifespan.
Another option here are Azadirachtins. These act as insect growth regulators and disrupt the bugs natural evolution. Brand names are AzaGuard, AzaMax and others in the guide.
In summary, this week
We summarized some of the many pest control options available for water treatment, soil borne, intermediate or flying pests. We also covered various concentrations for these pesticide and sterilizer options. If you are not familiar with dilution ratios, %, PPM terms and how to apply the correct level of pesticide, you may find our plant science test kitchen blog on this topic of use here.
Chemical access and use should be restricted to employees familiar with their authorized application. PPE is very important to protect any employee that will come in contact with materials, liquids or vapors for chemical resources (gloves, boots, respirators, Tyvek (or equivalent protective wear) suits and eye protection or goggles.
For more detail on each of these treatments, you can see examples for your integrated pest management procedures in our complete white paper for Integrated Pest Management Recommendations, download the document here.
In our next chapter, Pest Population Control Actions, we will review control thresholds and example plans for a range of problems from biofilm build up to white flies and more. Our final chapter after that will suggest an emergency response framework and how to address pest outbreaks. See you next week.
The post Building An Integrated Pest Management Plan – Part 4 appeared first on Cannabis Industry Journal.